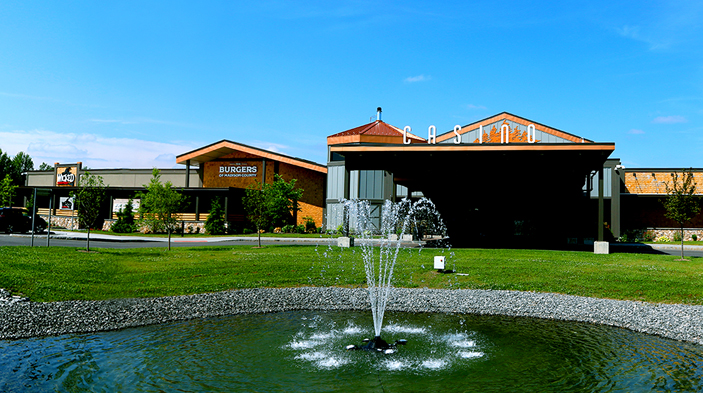 Summer Fun in the Sun
The Burgers of Madison County Patio will be hopping this summer, as PPC launched a new "BBQ on the Patio" event May 30.
The shindig, which runs every Sunday through Sept. 5, is a day-long party on our expansive open-air patio that faces a wooded area near the front door. The special event menu features a variety of different finger-licking barbecue food items from Turning Stone's popular BBQ restaurant, Tin Rooster.
This year's menu includes a rib platter with a half-rack of smoked pork ribs, a pulled pork platter with a half-pound of smoked pulled pork, a kielbasa sandwich with caramelized onions and peppers, and a pulled-pork sandwich. All full-plate specials come with fries and coleslaw; sides of macaroni-and-cheese or potato salad are available as well.
The restaurant's regular menu is available as well.
Drink specials for the party include Ommegang Neon Pools, Stone Buenaveza lager, Middle Ages Salt City IPA, and High Noon cocktails-in-a-can. Of course, guests also can purchase Bloody Marys at the Bloody Mary Bar inside the Perfect Pour Café.
The BBQ patio bash runs every Sunday from noon to 6 p.m., with live music during the last four hours of the night.
For those of you scoring at home, this event replaces the "Cans and Clams" event that PPC held on the Burgers patio for a few years before COVID prompted shutdowns last spring. General Manager Jerry Marello said he's excited for warmer weather and relaxed public health measures so the casino can take advantage of its great outdoor space.
"On a nice day, there's no better place to be than outside on that patio, relaxing, listening to music, maybe watching a game, and just taking it all in," Marello said. "Lucky for us, the food is amazing as well."