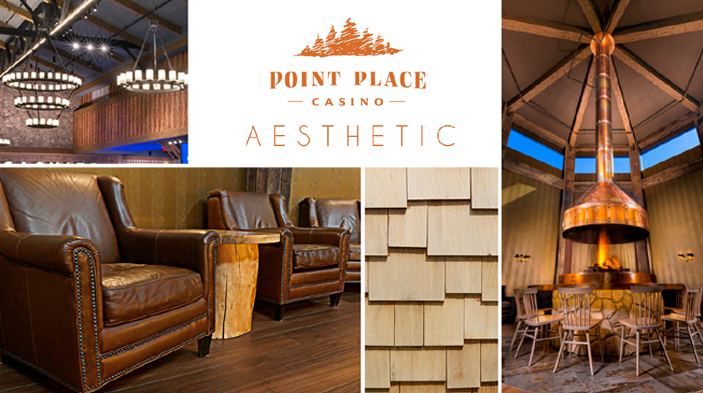 Designing a Winner
It's no secret that Point Place Casino is one of the biggest and most exciting destinations near and around Oneida Lake.
The truth is that we designed and built the place to be just that: A big deal.
We worked with world-class designers and architects to create a place that evoked cultural identity and palatial elegance. We planned PPC to wow guests as soon as they turned into our driveways. We'd like to think we achieved that goal in spades.
Perhaps the best manifestation of this goal is the main gaming salon, which guests experience as soon as they walk in the front door. The high ceilings and extended room are intended to evoke the style of an Adirondack lodge and cabins found around Oneida Lack. At the same time, our covered patios and Fireplace Lounge were designed to create a feeling of luxury.
Ray Halbritter, Oneida Indian Nation Representative and CEO of Oneida Nation Enterprises, is proud of what PPC represents.
"Point Place Casino derives its name from its picturesque location surrounded by the area's beloved lake points," he said at the casino's grand opening back in 2018. "The venue's ideal setting and its rustic, woodland ambiance mirror the unique spirit and style of Bridgeport and the surrounding community." We're also proud of the fact that we used local labor to bring our dreams to life. Specifically, our general contractor for PPC was Hayner Hoyt Corporation, which is based in Syracuse.
What's more, building the casino generated more than 250 construction jobs.
Inside the casino, our amenities are second to none. The Lounge with Caesars Sports is small but mighty, and a new configuration enables table games players to hit and stay on blackjack while simultaneously watching football unfold on the big TVs. The Fireside Lounge is a great spot to spend a chilly Upstate New York afternoon—especially considering that the fireplace was built specifically for our property.
Even our food & beverage outlets are top-notch—if guests aren't enjoying a meal from Wicked Good Pizza or Burgers of Madison County, they're downing a coffee or a glass of wine from the Perfect Pour.
The vibe at PPC is so top-notch that recently a visiting industry expert from Las Vegas mentioned the overall experience was no different from what he'd expect there.
We're proud of what we've accomplished here in Bridgeport. We're even prouder to share it with you.