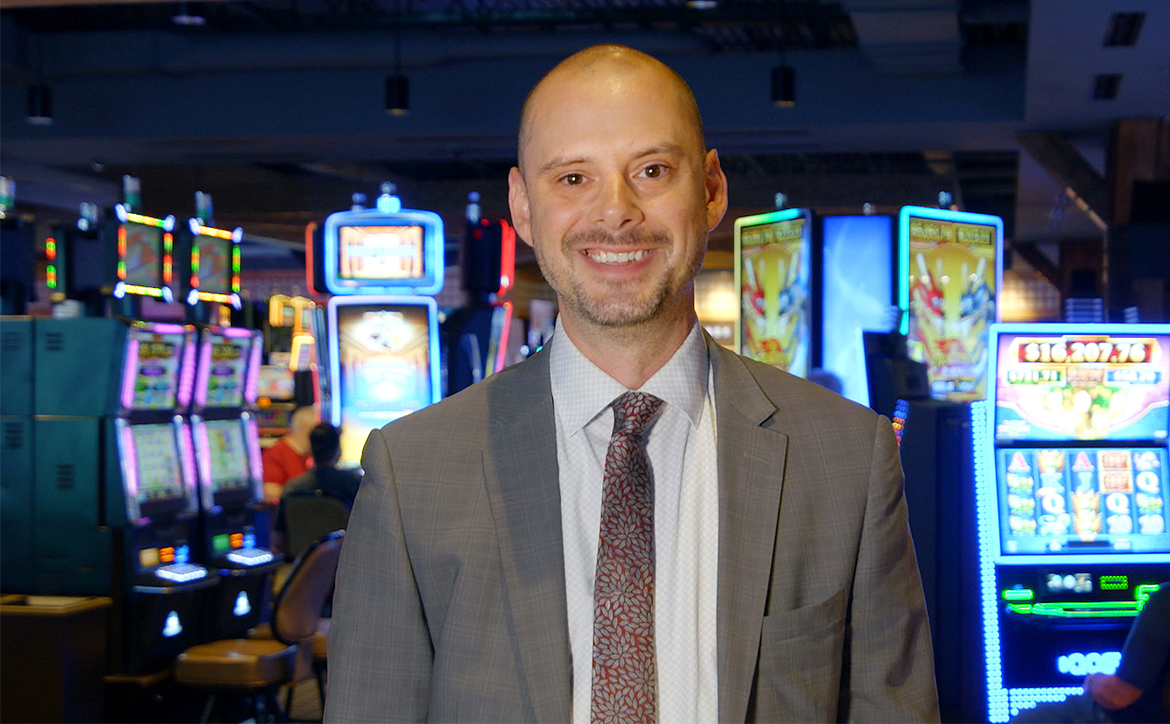 Marrello Leads Winning Team at PPC
One of the brightest stars to ever work for Oneida Nation Enterprises is helming the team here at Point Place Casino.
The man, General Manager Jerry Marrello, has worked in a variety of different roles at ONE properties over the course of his 18-year career. At one point, he even served as a butler and got to work with celebrities such as Stevie Nicks and Tony Bennett.
Today, of course, Jerry's job is to make PPC a special place—a role he relishes. On one level, this means perfecting the experience for our guests. On another level, it means Jerry has spent countless hours building a team of all-stars and cultivating a positive and fun environment for employees, too. The way Jerry sees it, work should be a place that brings joy to guests and employees alike.
"We are in the hospitality business, which means the guests come first," he said. "At the same time, it's important to me to make sure everyone who works here wants to be here, and that they're happy."
Jerry's career certainly has been exciting. He grew up in Rome but left shortly after high school. After four years of working in restaurants and nightclubs in Miami, he returned to Upstate New York and joined ONE in 2004.
His first gig was at Turning Stone Resort Casino as a server in Emerald. Within a year, he was promoted to the role of supervisor overseeing Pino Bianco and (the now-defunct) Forest Grill steakhouse. From there, Oneida Indian Nation Representative Ray Halbritter personally tapped Jerry to help launch a butler program.
The butler experience enabled Jerry to receive formal training from the Guild of Professional English Butlers—the same school that trains butlers who serve the Queen of England. On the job, he worked with celebrities such as Nicks, Bennett, and more.
Jerry was working for a venue called Club 21 then, and when ONE rebranded it as TS Steakhouse, he transitioned to running Lava nightclub inside Exit 33.
He worked nightlife for 10 years until he was tapped to open PPC in 2017.
"One of the things I tell people when I talk to them about [ONE] is that I had all these incredible opportunities and was hired as a restaurant server!" Jerry exclaimed. "I cannot think of any other company where I would have had so many different experiences."
Another motivator for Jerry: Innovation. He's always willing to try something new at PPC, and said he looks to creative thinking to keep guests interested.
Jerry added that promoting positive energy is key, and he considers it a key focus area for the future.
"I try to keep the energy high with my employees so that translates to our guests," he said. "The music here is always a little louder than we've done at [ONE] other properties. Anything we can do to create excitement on the gaming floor. If our employees are having fun at work, it's really going to translate to our guests. That's just how we roll."