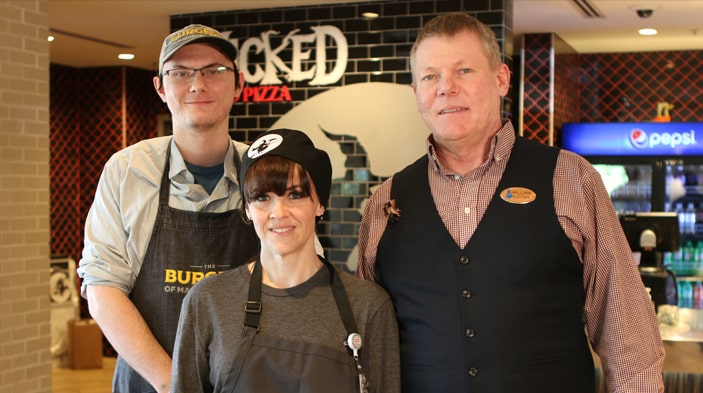 Meet the Abbotts: One Family, Four Dedicated Employees
Yes, Dealer Bill Abbott had to work on Father's Day last month. But considering that his wife, son, and daughter all work at Point Place Casino as well, every workday is a family day for this dedicated crew.
Bill, 48, deals novelty games such as Three-Card Poker and Let it Ride in the main gaming pit. His wife Heather works in the slots department and sometimes helps out at Wicked Good Pizza. His son Jerit works as a cashier at Burgers of Madison County. (Bill's two other sons don't work in the casino industry.)
"I'm lucky that I get to see so much of my family every single day," Bill said recently. "I always get a smile on my face when I spot them in the casino."
Bill is relatively new to dealing cards—he joined our crew after a short stint as a building superintendent and a 20-year career as a roofer. Upon a suggestion from his wife, he signed up for one of the Turning Stone Resort Casino dealer schools and got paid to learn how to shuffle and manage games.
It took Bill just a few months to feel comfortable on the pit-side of the felt, but now he said he feels like he's been doing it for decades.
"I always try to help players win," he joked. "Nobody's happy when they lose."
The native of Mexico, New York, said he's seen "a lot of crazy" at the tables over the years, but one night at the 3-Card Poker table sticks out as a true statistical anomaly. That night, over the span of an hour, the same player hit two $12,000 four-of-a-kinds and walked away with nearly $25,000. It remains the most he's ever paid out on a table game.
His favorite game: Spanish 21, which is describes as "blackjack on steroids."
Even though Bill is years away from even thinking about retirement, he doesn't necessarily see himself hanging it up completely. In fact, he says, his job at Point Place Casino is a job he could see himself doing for decades.
"This is definitely a job I could do for a long time," he noted. "As long as I'm happy, I'll probably work forever."