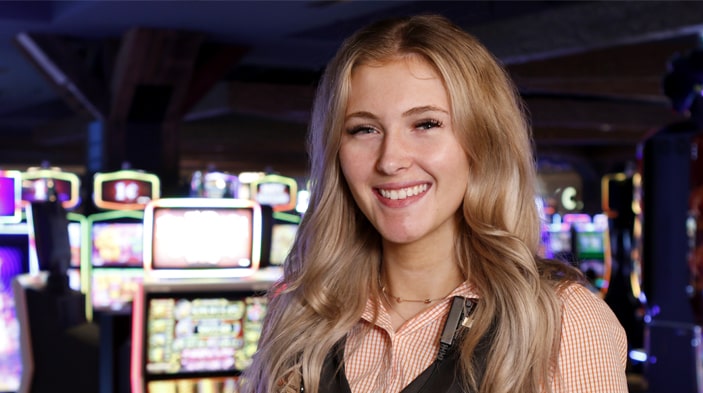 Meet Brittni Revoir: Helping People with Gaming and Health
Whether she's patrolling the slot floor at PPC or she's wandering the halls of local hospitals, Brittni Revoir is always helping others.
The 24-year-old native of Central Square in Oswego County is a nursing student by day at Onondaga Community College; by night, she's a slot service representative at PPC. She has worked at PPC since 2018.
"Helping people motivates me," she said recently. "It fills my heart with joy."
At PPC, Brittni's role is critically important, as she is the front line of guest service in our slot department. This means you'll see her walking around the slot floor to answer questions. It also means you'll likely interact with Brittni after you hit your next slot jackpot—she's usually the first on-scene to certify wins, and she's authorized to pay out wins that are confirmed as legitimate.
Brittni said she walks an average of 20,000 steps—nearly 10 miles—during each 8-hour shift.
"It's nice to have a reason to interact with people right after a moment of great joy," she said. "I've seen the range of human emotions over the years—people who have screamed out of happiness or just started crying out of relief."
At nursing school, Brittni just finished her second semester and is going into the third semester this fall. To this point, most of the classes in her two-year program have been virtual, but she is hoping to attend some in-person classes and will be on the floor in a Syracuse-area hospital for her clinical hours next year.
She still figuring out what type of nursing she'd like to do but was inspired to get into the field by her mother, who has worked in the medical field for most of Brittni's adult life.
Before joining PPC, Brittni lived in Binghamton and worked as a trauma technician in a hospital there.
Looking forward, Brittni said she sees herself working full-time as a nurse but admitted she does not think she ever could fully leave the Point Place Casino family.
"Working at [PPC] is the first job I've ever had and really liked," she quipped. "I like the people I work with. I have personal relationships with friends from work. These are connections and relationships that matter to me. I'm grateful the Oneida Nation Enterprises is such a caring and generous employer."