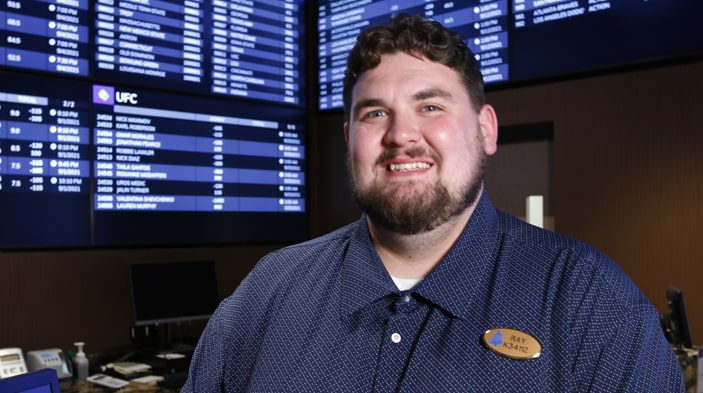 Meet Ray Garfield: A Sport's Fan's Dream Job
Being a ticket writer might be the best job ever for a self-proclaimed sports maniac.
At least that's the perspective of Ray Garfield, who has been a ticket writer in The Lounge with Caesars Sports at Point Place Casino for the better part of the last year.
"When you like sports as much as I do, this job is a dream come true," he said recently. "When I'm not talking to guests about sports and taking their bets, I get paid to talk to colleagues about sports or watch games."
The Syracuse native took a circuitous route to his dream job. Following a professional life in which he held jobs as a preschool teacher, a bartender, and a restaurant worker, Ray found himself looking for a new gig that he could get excited about. Someone suggested that he inquire about working in the sports book, so he did. The rest, as they say, is history.
Ray didn't know much about sports betting when he joined—he'd only actually placed one sports bet in his life (against his uncle). His lack of experience didn't matter at all, as the Point Place team trained him and helped him get up to speed with what he needed to know.
He said he enjoys passing along that knowledge to guests who come in and ask questions about how they can place bets as well.
"I love helping people get the bets they want to get," he said. "It's nice to make a difference."
Since Ray joined the PPC team late last year, he's paid out some big tickets. None, however, has been more memorable than the 8-leg parlay he paid to a regular who almost always bets on underdogs. The guy won nearly $10,000.
When Ray isn't manning the windows in the PPC sports book, he's probably cheering on the Miami Dolphins or off playing bar sports such as cornhole and darts. He also spends his free time working on his car, a red 2011 Volkswagen Jetta Sport Wagon. His fantasy: To own a classic car, either a 1960s Camaro or a 1971 Monte Carlo.
"This job will help me get there," he says of his dream car. "I hope to work for [the Oneida Indian Nation] for a long, long time."