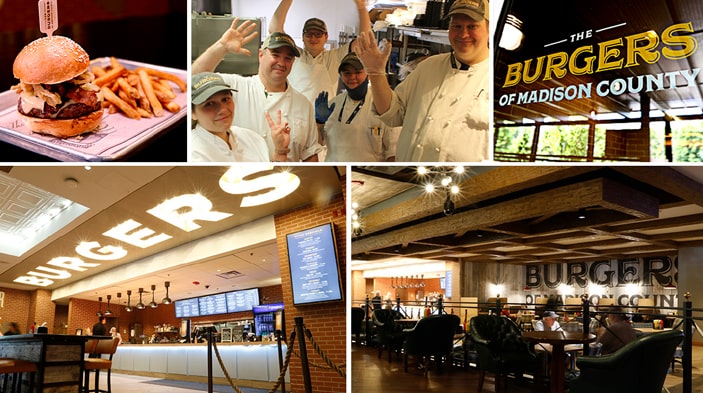 Making Daily Specials, Special
If you've ever wandered through our on-property restaurants, you know the Food & Beverage team at Point Place Casino has put together an impressive list of daily specials at Burgers of Madison County.
What you may not know: The process of devising these specials is a science.
According to Food & Beverage Manager Dallas Schult, weeks (if not months) of planning goes into deciding the specials, as well as a whole lot of listening to guests to get a sense of which dishes they like and which dishes they wouldn't mind replacing.
"We take the specials very seriously," Dallas says. "We recognize how important it is to our guests to have different food choices when they come to Point Place Casino, and we always want to make sure we're giving them plenty of options so they can feel comfortable coming here and planning a visit around dinner."
As Dallas explains it, the top three guest favorite specials are the Friday fish fry, Tuesday goulash, and the Sunday turkey dinner, which comes with house-made cranberry sauce.
Others, such as Saturday steak tips, are popular as well.
Generally speaking, Dallas and his team update the specials once a year, and the team is evaluating specials for the 2021-2022 season right now. New items should hit the menu this fall. Ultimately they will be based on guest preference, feedback, and availability of product.
The F&B crew also periodically will consider tweaking existing specials per guest requests. During Lent, for instance, there was an overwhelming guest interest in adding a fried shrimp platter to the Friday fish fry, so they did that. In the past the team also has offered a Reuben sandwich in the month of March. (They also have considered making the Reuben a regular item on the menu.)
Not every request ends with a new special. For years guests have asked for Utica Greens to appear on the menu, but the F&B team has determined the dish is very labor intensive; and not something they can offer right now.
Another popular promotion: "Taste of Turning Stone," through which a different restaurant from Turning Stone Resort Casino makes certain menu items available at Burgers of Madison County locations at PPC. This promo takes place on the first Thursday of every month.
The best way to keep abreast of daily specials is to look for the specials board at the entrance to Burgers near the Fireside Lounge. ICYW, there is no limit to how many specials you can order and eat in a week.