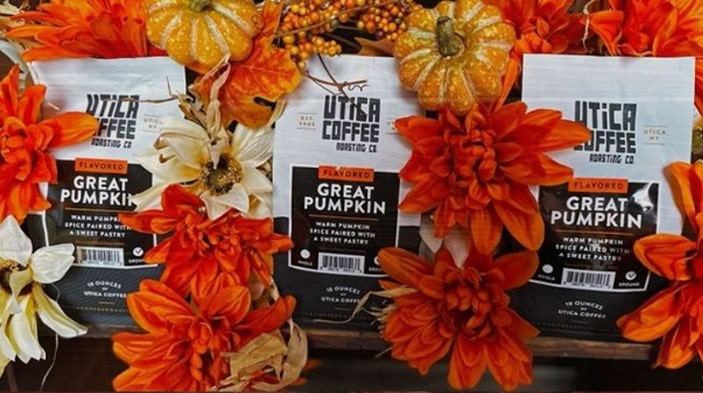 Fall Flavors Abound
Heads up, lovers of Starbucks' Pumpkin Spice Lattes: Point Place Casino's food and beverage outlets have some pumpkin power of their own.
The popular autumn flavor takes center stage this month in a variety of fall-inspired beverages and goodies across the property—many of which will get guests' taste buds ready for everything autumn has to bear.
Pumpkin prowess begins at the Perfect Pour Café, where baristas will brew Utica Coffee's Pumpkin Spice coffee and their own version of a Pumpkin Spice Latte. The former is regular coffee with pumpkin flavoring—a sweet but subtle and nutmeggy vibe. The latter is akin to the famous Starbucks drink, only with flavors that are bigger, bolder, and totally bodacious.
Burgers of Madison County will get in on the action as well, with a special milkshake for the month.
This treat features pumpkin pie ice cream, milk, and a cinnamon sugar-nutmeg mix sprinkled over the whipped cream on top.
The team at Burgers will boast other special fall-inspired milkshake flavors for the month, including one with Nutella, another with Fluffernutter, a third with apple pie, and a fourth with maple syrup and walnuts.
Over at Fireside Lounge, mixologists are doubling down (see what we did there?) on apple flavors.
One special seasonal drink—the Upstate Orchard—features 1911 Honeycrisp Vodka, local apple cider and lemon juice, while the Apple Cider Margarita spotlights Recipe 21 Tequila, local apple cider and Triple Sec. Of course, bartenders also are pouring the Apple Bomb, which comprises Royal Crown Apple, pineapple juice, and cranberry juice.
Be on the lookout for special desserts throughout the month, including apple pie, pumpkin pie, pumpkin bread, and more.