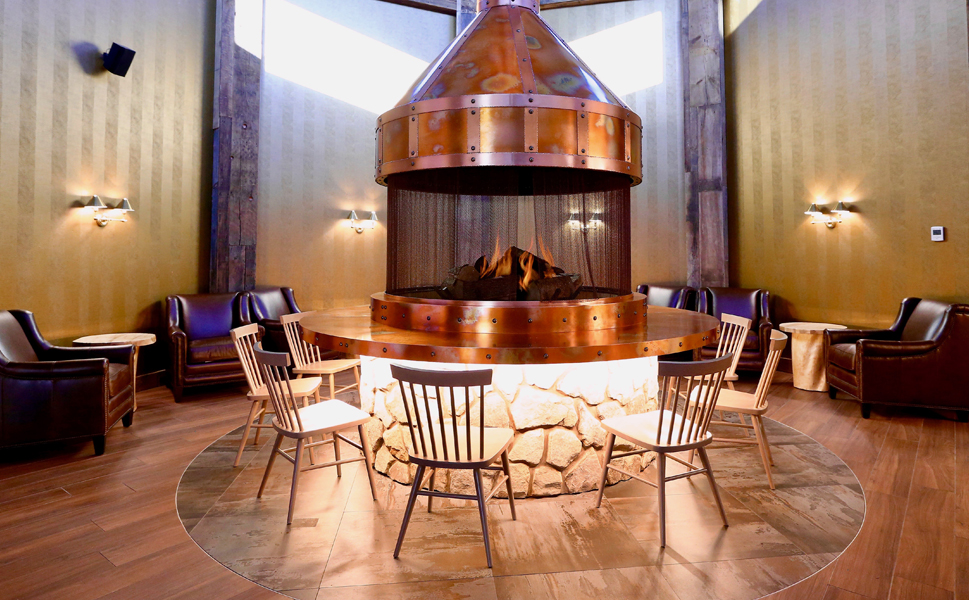 Kicking it by the Fireside
As the weather outside turns cooler, there's no better place to enjoy live entertainment at Point Place Casino than the Fireside Lounge.
This is the lounge area just to the left as you walk into the main entrance, the part of the casino floor that includes the bar and circular seating area around the wood-burning fireplace. Especially on weekends, it's one of the most happening places in the entire casino.
Saturday nights are where it's at, and bar managers set up a small stage for performers so that guests can listen to music and still feel like they're part of the action on the gaming floor. According to General Manager Jerry Marrello, the stage is positioned in such a way so guests can be sitting around the fireplace and still have a view.
"We want it to be cozy and dynamic at the same time," Jerry said recently. "That way there's something for everyone."
Like Jerry suggested, the Fireside Lounge was designed for mass appeal. The design inspiration for Point Place Casino was a cozy cabin in the Adirondacks. Building the area around a real fireplace was a critical step in achieving that vibe.
On chilly nights the fireplace burns maple and cherry, woods that fill the gaming floor with sweet smells.
Servers from the main bar take orders and deliver drinks so guests can unwind. A new menu of fall martinis includes a variety of special choices, including the Caramel Apple with 1911 Honeycrisp vodka, Smirnoff Caramel vodka and apple cider.
"When that fire is going and there's a band playing, it's hard to resist sitting and lingering," Jerry said. "The whole idea was to make it a place where people could come and spend a few hours."
October certainly has a full lineup of musicians for Saturday nights at the Fireside. Travis Rocco performs October 2, and Chris Ease takes the stage October 9. These performers are followed by Bill Ali on October 16 and Just Joe on October 23. There'll be music on October 30 as well as part of our Halloween event. Stay tuned for more details.