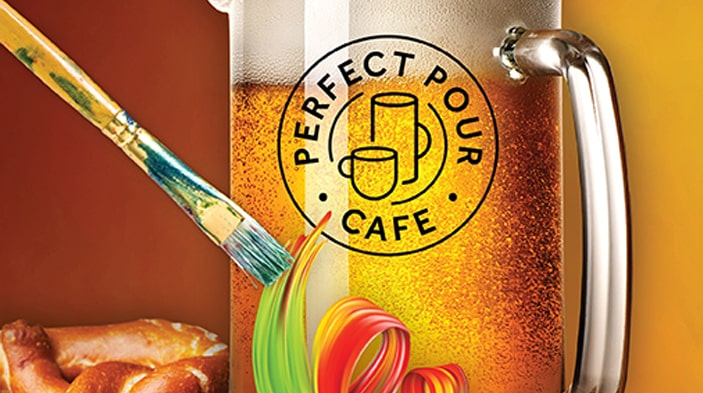 Cheers to a Masterpiece
Whether you prefer modernism or Romanticism, you can unleash your inner Pablo Picasso and celebrate Octoberfest in style this year by decorating a big mug for your beer.
At the "Paint the Stein" promotion on Monday, September 27, guests can get as creative as they wish and paint the very vessels they use to down gulps of Samuel Adams Octoberfest beer—a seasonal favorite.
The event runs from 6-8 p.m., and for $15 per person guests receive a Perfect Pour-logoed stein, painting supplies such as paints and brushes, one draft of Octoberfest beer, and a handful of soft pretzels (because there's no way you're gonna down a giant mug of beer on Octoberfest without at least a few soft and salty pretzels).
Additional pints of beer are available for purchase all night long.
General Manager Jerry Marrello, who has painted some steins in his day, said he's looking forward to the event to showcase the creative talents of some of Point Place's regular guests.
"We know we have some creative people who come here to play, and we'd like for them to really let their inner artists out," Jerry said with a flourish that evoked Jean-Michel Basquiat. "We want people to get as creative as they can."
Like all good events, the "Paint a Stein" shindig involves at least a tiny competition. Once participants have finished their mugs, representatives from Samuel Adams will step to a podium to judge entries and award prizes for winners in a variety of categories. Prizes were expected to include everything from Point Place swag to Free Play.
Even if you don't win a particular prize, all painted steins will unlock special beer pricing for the remainder of the night. If that doesn't make Bob Ross paint a "happy little tree," nothing will.
Tickets for "Paint the Stein" can be purchased at Perfect Pour. For more information, call 315.366.9575.