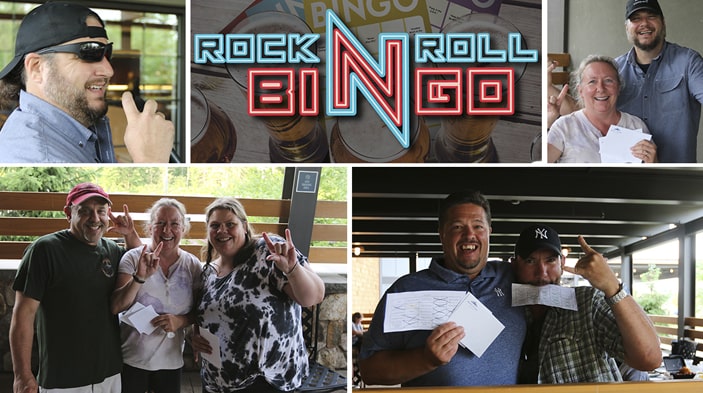 Jamming IRL to Rock N Roll Bingo
In-person entertainment is back and better than ever, and Point Place Casino is celebrating the return of in-real-life fun with a rollicking mashup game that is sure to entertain, excite, and amaze.
The game, dubbed Rock N Roll Bingo, is a mashup of three familiar contests: music trivia, Name that Tune, and BINGO. Prize packs range anywhere from a few hundred dollars to tens of thousands of dollars, depending on the game.
The party unfolds 630-930 p.m. every Thursday on the patios outside Wicked Good Pizza and Burgers of Madison County.
To call the contest a fan favorite would be an understatement; often players will line up hours before the doors open to make sure they can secure their lucky spots (and spots next to their favorite friends). Many players also pre-order food so they don't have to worry about securing dinner during the fast-paced action.
Once the game begins, the energy in the room is electric—many players dance and sing along to the music as they mark their cards. Some even headbang.
"It's a sight to behold," says General Manager Jerry Marrello. "Honestly, I'm so glad it's back."
The game itself is nonstop fun. Players receive one bingo card for each game, only instead of numbers, each card is populated with song titles. Caller Bobby Paige announces the topic before each game—there are 24 rotating categories in all, including Classic Rock, Songs in Film, and We Love the 80s (to name a few). Instead of calling out song titles, Paige plays a 30-second clip of each song. After that, players must decipher the title, check to see if they have the name on their board, and mark the board accordingly.
We admit—even if you don't know a song title, it's pretty easy to politely ask a neighbor. But be warned: No neighbors are obligated to tell you the answer when you ask.
Most players seem comfortable with knowledge of songs from the 1980s and 1990s. The other categories, not so much. Consider this inside information a tactical advantage; if you want to get a jump on the competition before your next bingo session, put in some time studying tunes from the 1970s and 2000s. Whether it's ABBA or Death Cab for Cutie, the effort will introduce you to some great tunes.