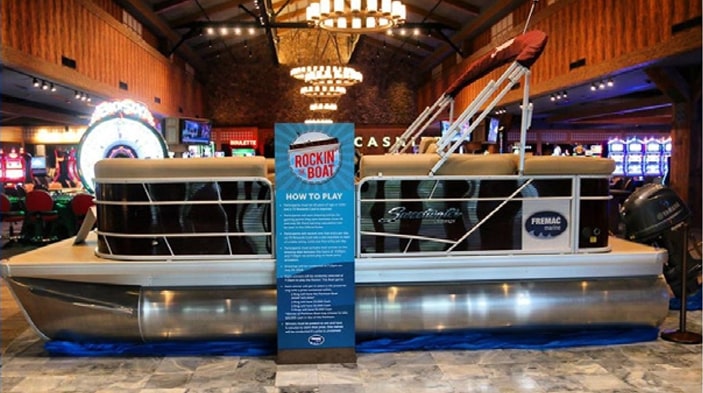 Life in the Promo Circle
At Point Place Casino, the winning starts as soon as guests walk through the front door. Literally.
The first thing guests encounter when they walk through the main entrance to the property is a large round white circle in the dark wood floor. General Manager Jerry Marrello and his team affectionately refer to this feature as the "Promo Circle."
This circle is the spot where PPC activates promotions, the spot where guests and giveaways converge in a glorious mix of gratitude for our most loyal customers.
In short, it's often where guests find themselves in the best position to win free stuff.
"We like to think of this as the center of the action," Jerry says. "There's always something happening here when you come to Point Place Casino, and it's usually happening in the Promo Circle."
Most recently, the Promo Circle was the scene of our popular "Hole in Won" promotion, through which guests were selected randomly every Thursday in July to putt for up to $250 in free play. (It didn't matter if guests weren't skilled at the short game; they received $100 in free play just for being selected.)
In the past, because the front doors open like an accordion and make it easy to wheel large items straight through into the casino, the Promo Circle is where we've positioned cars, trucks, kayaks, and other items for giveaways.
Later this month, during our $75,000 "Beat the Heat" promotion, we'll select seven winners at 8 p.m. on August 27 in the Promo Circle as well.
We undoubtedly will host other promotions in the Promo Circle over the course of the year.
Downstate singer/songwriter Harry Chapin once sang, "All my life's a circle." Chapin wasn't around long enough to step foot into PPC, but conceptually, we like to think he was on to something.