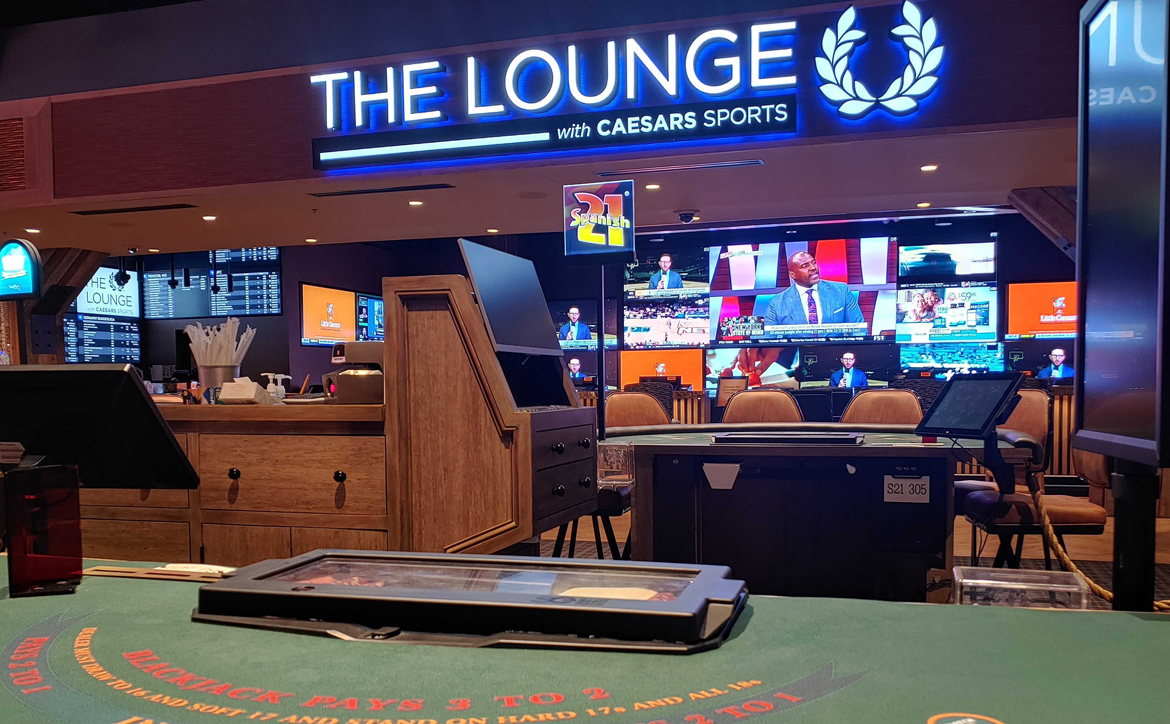 Best seats in the house
There are three table games pits inside Point Place Casino, and one of them is primed to have a bird's-eye view of all the men's college basketball action later this month.
The pit—Pit 3, for those of you scoring at home—is located just outside The Lounge with Caesars Sports.
That means the pit is a great spot for guests who like to double-down on gambling action during the annual college hoops tournament and play table games while they're following their bets on the sports book screens.
The pit has six tables in all: four Blackjack, 1 Spanish 21, and one Three-Card Poker. All of them offer great perspective on the 24-foot high-resolution video wall and 30 LED screens that make up the book.
"If you like to multitask, if you like action, it's literally the best seat in the house," said General Manager Jerry Marrello. "The energy is just great over there. It's almost like you're watching the game from right there in the arena, at your own private casino."
Technically speaking, this March is the "new" pit's one-year anniversary; it opened last year right around this time. Though the college basketball tournament was subdued last year due to Covid-19, guests still came out in jerseys, cheering the games on TVs in the book while they hit, stayed, and split at the blackjack tables in the pit.
Jerry said he expects the vibe to be a bit livelier this year, since New York State and the Oneida Indian Nation have lifted all social distancing rules.
During some games, Jerry said there might even be a wait to sit down and play at one of the tables.
"We don't really know what to expect, but guests love that area so it's going to be a popular part of the casino during the tournament," he said, noting that guests can always reserve VIP seats and tables in the book, too. "With great table games, hoops on the TVs, and great food, it'll be exciting for sure."